Creative holidays and workshops
in handicrafts town Avanos, Cappadocia, Turkey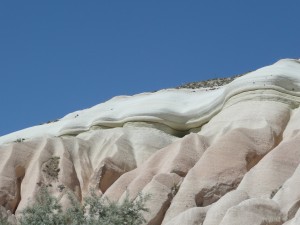 In the centre of Turkey  you'll find the fairylike landscape of Cappadocia. This is one of the most beautiful regions of Turkey and unique in the world. It is known for its fantastic and colorful rock formations and valleys, its cave dwellings, painted rock churches and monasteries.
Located in this ispiring landscape, you'll find the delightful pottery-town Avanos situated on the banks of the river  Kızılırmak (Red River). The Kızılırmak is the longest river in Turkey and since Hittite times, 2000-1500 BC, and has always been the source of the clay for the traditionally famous Avanos pottery.
Since 1979 we offer creative holidays & workshops with ceramics and carpetweaving, sculpture, dance and music, combined with excursions and hikes in Cappadocia.
In our workshops the traditional handicrafts and folklore of Turkey get the most attention. For instance, it is possible to learn how to throw pottery on a wheel, make plates and decorations, carpet weaving (look under workshops)
For the other workshops like sculpting in natural stone, dance and music, etc. we work in cooperation with other organisations and guestteachers.
During  one of the activities it is possible to stay in our Tafana guesthouse, one of the old traditional houses in Avanos and located in the old center of town.
Tafana is a tipical Avanos word, meaning the common family room/kitchen, where before the family members and friends gathered together to enjoy meals, stories and music around the tandir, a ceramic cilindric oven in the floor of the tafana. The oven was used for preparing meals and giving warmth in cold times.
Our travel agency is: Galip's tour, member of the Turkish national travel association TÜRSAB.
We also work with OPOS (Our People Our Story) Tours & Travel.