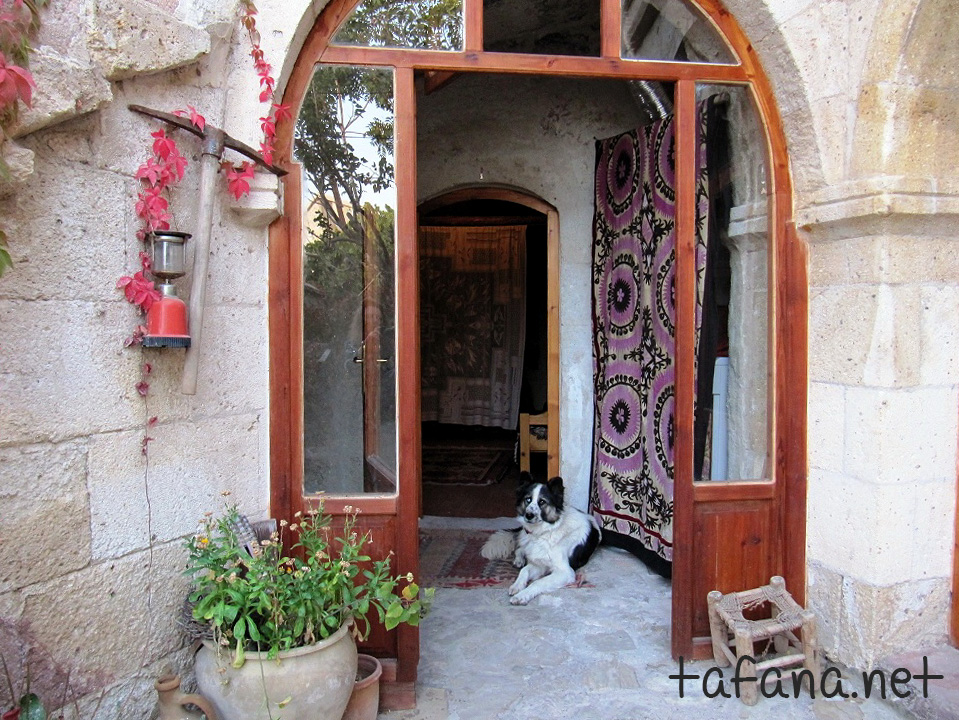 Tafana guesthouse is one of the old traditional houses in Avanos and located in the old centre of town. Three old houses are connected to each other.
Tafana is a typical Avanos word and is the name for the largest arched room of the house used for common life. Before, the whole family gathered together in the tafana, the women prepared their meals, everybody ate together and in the winter it was the place to keep warm near the tandir oven and share the latest news and stories with friends and neighbours. (A tandir is a cylinder of clay in the ground and used as an oven and stove. It is still used in many places in Turkey)
Tafana is still the familyhouse of Galip, Lilian and their 3 daughters, but part of the 3 houses has been converted into a separate guesthouse and some separate rooms. Particularly people who are interested in nature and culture and who like to get acquainted with the hospitable Turkish rural life, will feel at home in Tafana.
Participants to one of the creative/ hiking/holiday programmes, individuals, as well as families are very welcome.
For groups or organizations it is possible to rent (a part of) the guesthouse, for instance for cultural/educational programs.
For more photo's: Gallery-Tafana guesthouse
Features and Amenities 
The guesthouse is tastefully decorated with many traditional, antique and comtemporary objects from the environment. Besides the separate house with its own entrance (but connected to the other part of the guesthouse), with 3 bedrooms, a big entrance/living room, it's own kitchen and terrace, can be rent for more privacy for small groups or a family.
Otherwise there are 4 guest rooms with private bathroom. Some rooms are suitable for  2 persons, several other rooms are rather big so can be used for more persons.
Guests can use the big cozy communal "living room-kitchen" with a small library with lots of art and other books in several languages,. Here you can relax or meet with other guests, eat, drink and talk or even make music. There is a number of large terraces and even a roof terrace with beautiful views of Avanos and Cappadocia, to enjoy a nice breakfast, a delicious dinner or simply relax with a book or a glass of wine.
Traditional meals can be arranged on request, both in Tafana as with a local family home.
Activities  organised by Tafana:
Excursions and hikes in the Cappadocian valleys and villages. (on request)
Workshop/courses: ceramics are always possible to organise. The other workshops on request, and if available only for groups of at least 4, most 8 people.
We can help you to organise a Balloonride over Cappdocia
And please let us know when you need help to organise a transfer from or to the airports of Kapadokya (Kayseri and Nevsehir)
Tafana guesthouse is central heated and open all year round.

Turkish, Dutch, English, French, a little Hebrew and German spoken.
Price per day per person in twin room; from 20 €. Single supplement 10 €
Price for the separate house/ apartment from 400 € to 750 € per week  (according to the number of people and the time of the year. Please ask for information)
Meals are not included, but can be prepared on request.
Otherwise there are many small restaurants in town with a choise of food for everyone.