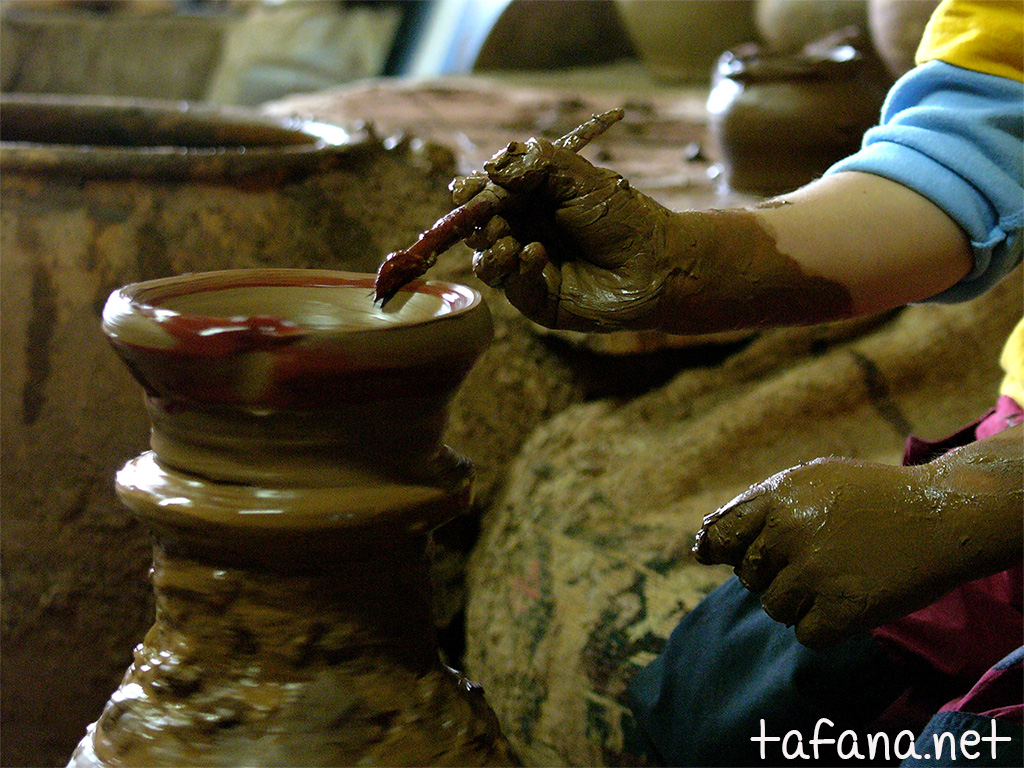 Throughout time, pots of varying sizes and shapes were made for daily use here in Avanos.  Due to the frequency and demand for pottery pieces in every day life, Avanos developed a throwing technique specific to the region.  For people who want to learn to throw or for those who wish to advance their own throwing skills, this is the place to be…
The strong yet supple clay that is found in this region makes you want to do something with it!
Earthen hues of beautiful red, yellow and green

Of course the decorating of ceramic pieces is a very important aspect of the art. Visitors who wish to learn or further their skills in this area will certainly have every opportunity to do so in a workshop with us.
We work with several red and white clays, most all earthenware.  The designs we use are often inspired by a traditional Iznik underglazing technique (such as the tiles in the old mosques of the famous architect Sinan and palaces like the Topkapı palace dating back to the 15th century.
Blues and turquoises typically reflect early 16th century ceramics, after which all colors of the rainbow were developed and applied. A transparent glaze over the design base lends a colorful, shiny effect upon the second firing (more info about our ceramics at www.chezgalip.com)
Over the past number of years, potters have experimented with more modern techniques such as relief work, hand-sculpting and painting, all of which have been incorporated into their work.
For firing we use a traditional wood kiln and/or an electric kiln.
What you will learn during a ceramic workshop:

* where to collect the clay and how to prepare it.
* throwing on the kick wheel.
* finishing and decorating
* firing in a traditional Avanos wood kiln. For glazed pieces, we use an electric kiln.
* techniques such as burnishing, cutting, relief work, painting (also underglaze in the İznik style) and how to incorporate these techniques into your unique style.
* A guided walk through Avanos and its surroundings plus excursions to traditional workshops as well as to ceramics, tile and brick factories.
During the workshop, those who are interested are welcome to join us a morning harvest of clay from old riverbeds and nearby mountains. This is a rather physical job, but satisfying, and the effort will surely be compensated by a special sunrise picnic breakfast. After collecting the clay, we will prepare it together according to specific mixing procedures; for instance, clay for throwing verses clay for sculpting.
Platemaking on special moulds, finishing with several decorating options such as  painting (mandalas) are part of the program where we also give guidance and instruction on hand building and firing techniques.
There will be a lecture about daily life in Avanos, its development over the last 40 years, and a beautiful documentary film of the Dutch artist Ria Wesseling, about large, built in 3 pieces, traditional storage pots. www.riawesseling.nl
Several pottery workshop programs & prices 2023.
PROGRAM I  5 days including 5x lunch, lectures and excursions in and around Avanos, most materials, tea and coffee during the workshop.
Itinerary

Every day we teach from 10 to 12.30 and from 14.00 to 16.30.
Day 1–  İntroduction and explanation about the workshop. Demonstration of pottery making on the wheel and a lecture. Visitation to the gallery and learning how to wedge and center clay. Lunch at the pottery studio.
Afternoon: continuing to learn how to wedge and center clay.  
Day 2–  How to begin shaping your pottery, referencing the traditional Uzluk form,  a small traditional pot that can serve as the basis for more difficult forms for pieces you might lie to try your hand at later. 
Lunch in the pottery studio. Afternoon, practicing.  
Day 3– Collecting of the clay in the mountains/old riverbeds just outside of Avanos and a visit to some of Avanos' traditional pottery studios. Lunch.
The afternoon will be spent preparing the clay we harvested.
Day 4– Learning some finishing and decorating techniques such as burnishing, cutting, relief, painting.
Lunch in the pottery studio
Afternoon; a special documentary film of the Dutch artist, Ria Wesseling, about the process of big traditional 3 pieces vessles. Remaining time for practising.
Day 5– Finishing pieces, choosing which pieces you would like to keep. Lunch.
Afternoon; Explanation how wood kilns work. Finished work will not be dry enough to be fired, but participants can take their unfired work home, or have it fired and sent later at the cost of shipping.  Goodbye celebration with snacks, wine, tea & coffee.  
Min. 4, max 10 participants. Price: 450 € per person. 
With a total of  2 or 3 participants we charge 100 € extra pp. for the whole 5 days program. Please also have a look at the  İndividual program (see below)
PROGRAM II  (8 days) Workshop and 7 x accommodation in double/twin room in our guesthouse.
We start the first morning with information about the workshop and a walk through Avanos.  After the lunch we will  lead an excursion through Cappadocia. The following days will be approximately like PROGRAM I
Min. 4, max. 8 participants . Price: 675 €. (single suppl. 10 € per day )
With a total of 2 or 3 participants ,we charge 100 € extra pp. for the 8 day program.
PROGRAM III  (8 days) extensive workshop-hiking program  İncludes lodging*, most meals*, the workshop*, excursions & hikes*
Includes:  *7 x accommodation in our guesthouse double/twin room. * 6 x lunch, *3 x diner.  * 6 half days accompanied atelier work, lectures, most materials, tea and coffee during the workshop * 5 x guided excursions & hikes in Cappadocia  * all transfers during the workshop, excursions & hikes.
* 8 day itinerary:
Day 1: Arrival in the lively handicrafts town of Avanos. Meeting with and introduction of the people at the Chez Galip studios then settling into the guesthouse, the restored family home of Galip and Lilian Korukcu in the old town of Avanos.
Day 2: To gain an understanding of the surroundings and how they inform ceramics artisanship, we start with a walk through the pittoresque old part of the town and the elevated gardens of the local population of Avanos. The views from above town offer splendid panoramas of Cappadocia. We will travel on foot through narrow streets lined by typical traditional stone houses, downward toward the modern part of Avanos, passing the suspension bridge over the Kızılırmak, the Red River, the longest river in Turkey, and the source of the clay used by the potters of Avanos throughout time.  Arriving at the studio, the first part of the workshop will start with a lecture followed by demonstrations of the region's traditional crafts, the ceramics and carpetweaving of Avanos.
After lunch, we will begin hands-on instruction.
The evening meal will be an "at home supper,"  an opportunity to dine on local specialities…
Day 3: Short transfer and hike through the Devrent valley, not far from Avanos. The fantastic, surreal forms and colors you will see here will surely inspire you for the workshop that will continue after lunch.
Day 4: A continuation of the workship in the morning. After lunch, we will go to the lovely village of Uchisar, the highest point of Cappadocia, with its impressive rock castle from where we can admire three hundred and sixty degrees of surrounding natural phenomena. We will walk through the narrow streets of Uchisar with its beautifully sculpted houses and take a break in a very special home, a fairy chimney family-run kind of café. We continue with a hike of about 1.5 hours to the town of Goreme,  wending our way through the valley among bizarre rock formations, bee and dove caves, local gardens and vineyards. We will enjoy dinner in a small restaurant run by a local family.
Day 5:  Resuming the workshop at the studio. After lunch, we will travel by car or minibus to one of the underground cities, a very special experience. We will then continue onward, passing small agricultural villages, to Sarihan, a Selçuk Caravan Saray (13th century).
Day 6: The day will begin with a beautiful walk through the varied Kızılçukur-(Red) and Gülü (Rozen) valleys, replete with tunnels, churches and pigeonhouses, to the village of Çavusin with its particular rock partition. Picnic lunch in the valley. If time allows, we will climb to the top of the old abandoned part of the village from where a beautiful view over Cappadocia can again be enjoyed. İn the afternoon we'll be back in Avanos. Indiviual work in the studio for the remainder of the afternoon. Dinner will be a traditional meal prepared in Avanos ceramic pots.
Day 7: The morning will be dedicated to finishing pieces and deciding which ones you would like to take home.
Farewell celebration lunch with local wine etc.. The afternoon is open to options, such as  a visit to the open air museum of Zelve or Goreme, or to just relax in the hamam.
Dinner where and as you like
Day 8: After breakfast, end of the program.
This program includes;
* 7 x accomodation in double/twin room with private shower & toilet in Tafana guesthouse.
* İntroduction with a drink with Galip and Lilian in the atelier "Chez Galip"
* Accompanied workshop; 6 day parts (appr. 3 hours per day)
* 5 accompanied hikes/excursions/all transfers during the workshop and excursions.
* 6 x lunch and 3 x dinner
* Most materials, tools
* lectures and a documentairy film of artist Ria Wesseling about the process of big traditional 3 pieces vessles.
* Coffee/tea during the workshop, farewell lunch.
Excludes:
* Flight/transfer to Avanos
* Not mentioned materials (some colors, bisc plates, loom for carpetweaving)
* Museum entrance fees
* Meals not mentioned in program
* Beverages during the evening meals
Small groups; min. 4, max. 6 participants. Price 895 € pp. Single suppl. 10 € per day.
Price without lodging: 670 €.  
With a 2 or 3 participant total, we charge 100 € extra pp. for this program
Note: İnstead of working on a (kick)wheel it is also possible to do handbuilding or slabwork or learn to throw a plate on a mould. Painting and glazing are other possibilities.
We always ask participants what their interests are and tailor the workshop accordingly
*According to special wishes of the participants, changes to the itinerary can be made.
*Due to unforessen circumstances (i.e.weather) the program might have to be adjusted but will always be intensive and interesting.
,*For the hikes you should be in a good physical condition and wear confortable shoes. Most of the valleys aren't that difficult to hike, but in some parts can be somewhat steep parts with a few difficult passes or uneven terrain.
* Recommended clothing: Light hiking shoes, a hat or shawl to protect you against the strong sun, and a light raincoat for during the hikes. Even in summer you might need a sweater for the evenings.
Starting dates in 2023;
 April 22 and 29, May 6, 13, 27, 3, 10, 24, July 8 and 15, August 12, 19, 26, September 2, 9, 23, 30, October 7, 14 and 21.

*For people who would like to come with their own group, it is possible to organize special programs at convenient dates/times for both of us.
*Individuals can make an appointment with us. They can use the studio facilities and can get help at flexible times from one of us.
Price per half day (approx. 3 hours) per person 40 €, including materials, coffee and tea. Whole day (7 hours) including materials, coffee, tea & lunch 75 €
At an additional cost you can be picked up and/or dropped off at your hotel.
* For programs for schools or other educational purposes, please contact us.
Other activities we can organize for you:
İt is possible to take a hotair balloonride over Cappadocia: a very special experience.
*Ballooning (early morning)  is very popular so reservations need to be made in advance. Kindly give us advanced notice if this is something you want to do.
*Whirling Dervishes ceremonial dance performance in an underground cave,  45 min performance.
*Evening of Turkish traditional music and dance, meal and beverages included