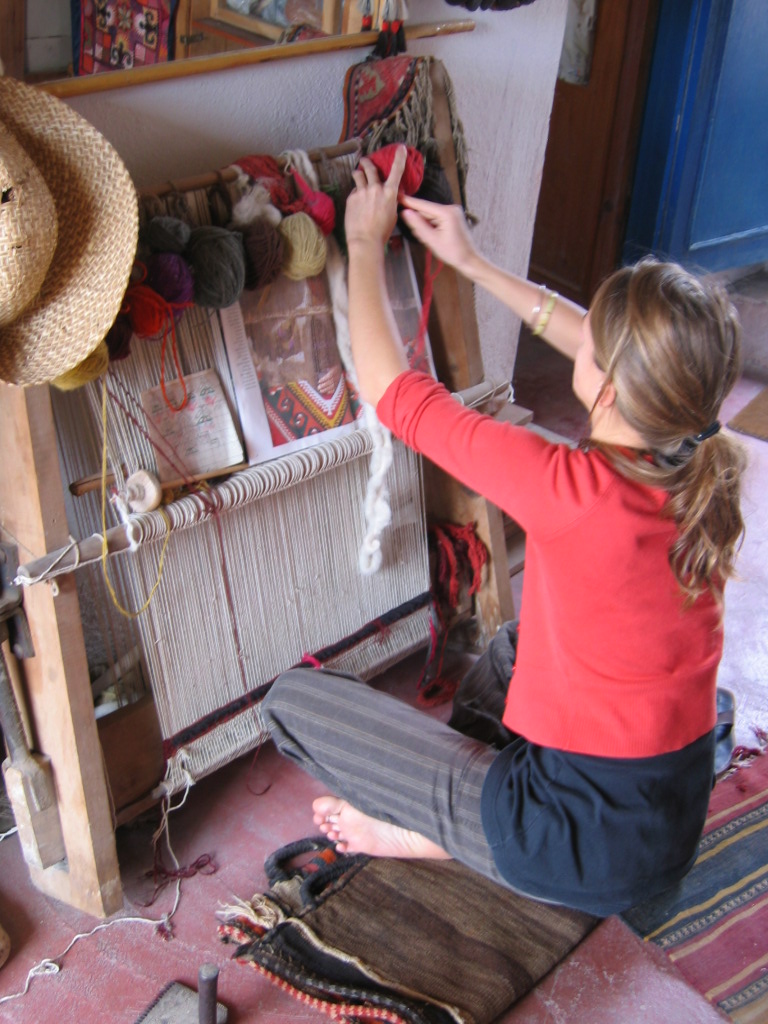 After a workshop of a week you will be able to take home your little loom with the beginning of your own Turkish carpet.
Traditionally the women of Avanos always made more knotted carpets then kilims. Halı is the name for the knotted carpet. These carpets have a worp, a weft and a (dubble) knot. The same loom can be used for the weaving of the kilim, this is a flatweaving. During a workshop you can learn to make these two techniques. Other flatweavings like cicim, sumak and bandweavings are not made here, but during the lectures we will give attentions to these other and important Turkish weavingtechniques.
Spinning of the wool was always done with spindels, not on spinningwheels. There are different spindels for making thin threats and for making thick threats. We will show the different kinds and the results, and people who would like to learn to spin, will be able to do so.
During the workshop you can start to make your own little carpet. The loom is not big, so after the workshop you can take it with you and finish it at home. After you have made your own design and have finished to set up the worp, which is the most difficult (we will help you with that of course), you can start with knotting your carpet.
According to the time of the year we will make a walk to the gardens and valleys to gather plants for the dying of the wool. Another day we will dye wool in a big pan on a woodfire. Per workshop one dyebath will be done.
We will also give a lecture about the history of the carpetweaving, the materials, the colors, the symbols, and how to recognize the different carpets of Turkey. We will give attention to the other techniques like sumak, cicim, bandweaving and other Turkish textiles.
The technical part will be taught by the women of the family/village, often by Muazzez, Galip's mother. The translation, information and lecture, will be done by Lilian